Hello,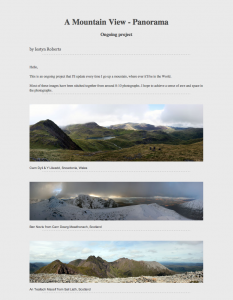 I've just created an online gallery at the awesome looking site – Behance.net. It's a gallery full of my Panorama's that I post here – but all together, which is really nice to see. I will be updating it quite often I imagine, I have tonnes of panorama's I need to finish stitching, and I'll be going up Mountains very often, so there will always be some pictures to take.
Here's a direct link to my portfolio:
Iestyn Roberts – Panoramas of a mountain view
If you like the set so far, please hit the 'Appreciate' button at the bottom. Thank you.