Hello.
Over the weekend, Me and Regi went over to Brussels for a long weekend. My favourite artist – John Butler Trio – was playing there on the Sunday, and one of Regi's friends lives there, so we decided to combine a trip of epic proportions. And that's what it was. We had a fantastic time, and it was lovely to meet Nadia, and be spoilt by her lovely cooking and hospitality.
We (thankfully) booked the Eurostar over, left London at 7am, and got into Brussels at around 10am local time. The journey was pretty awesome, there was a lovely morning mist, and the sun was a-blasting.
We went for a wee tour of Brussels, and headed down to the Grand Place. Here are two panoramic I took of the beautiful square;
We then headed over to see Manneken Pis, the famous peeing fountain boy, today he was wearing a sweet little costume. Apparently, he's dressed in a different costume, several times each week. Gotta be warm I guess;
Brussels is known for their fries, so we just had to get some, Nadia knew of a pretty awesome shop that sold some good ones, so off we went. The sauce I had on mine was called Andalucia I believe. It was really quite good – a bit spicy, but I'd recommend it.
We then went for a wee walk, seeing some cool Street performers 'n that. Came across a nice few streets, and some cool looking old Chapels, which Brussels is full of.
We managed to find the Canal that runs through Brussels. It was a beast of a thing, and unfortunately, full of rubbish.  It's a sad thing that I think.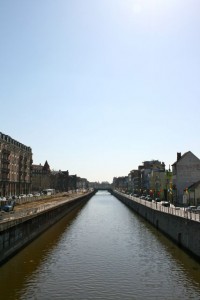 John Butler was just awesome, live they are phenomenal. I saw them a few years ago, but now they've improved so much. John seems so much happier in the new band, and it really showed on stage, that they were having a great time. In front of us throughout the gig was this crazy old German dude with amazing sideburns, just going crazy to John, he was very drunk – and out of beat with everything. Hilarious he was.
We walked North, to see the Atomium, and also came across the Chinese Pavilion. The Atomium itself doesn't really do anything for me, an odd looking thing I find. The Chinese Pavilion and the Japanese Tower on the other hand were amazing buildings. They really were. The Japanese Tower is 80m high! I would have loved to go to the top, but unfortunately, it's closed on a Monday.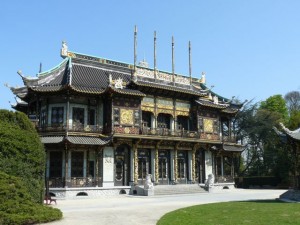 After that, we just chilled, saw some more pretty buildings, ate some more fries, waffles, had some Beers, and hung out with Nadia. It was a really great trip. Good times.